(Psst: The FTC wants me to remind you that this website contains affiliate links. That means if you make a purchase from a link you click on, I might receive a small commission. This does not increase the price you'll pay for that item nor does it decrease the awesomeness of the item. Linda)
Basic dog obedience training for Bichon Frise puppies includes commands for sit, stay, heel, down and come.
Training your Bichon Frise puppy for these commands should begin as soon as you have your new puppy at home.  At first, you'll just handle your pup and get her used to being with you
Next, simply talk to your puppy and tell her what you are doing.  This helps her get used to language and builds rapport.
Dog obedience training is not simply to prepare a dog for competition.
A well trained Bichon Frise will respond appropriately during an emergency situation.
She will also be a pleasure to be around, with her good dog manners.
In addition, your well-trained Bichon Frise dog have confidence and will act appropriately in social situations.
So how can you make your puppy's training fun?
Dog Obedience or Tricks?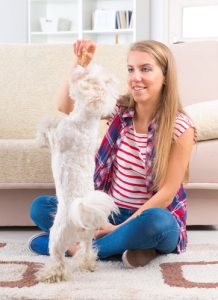 As you work with your Bichon you will discover how intelligent he is and you'll fall in love with your Bichon Frise's whimsical personality.
Pleasing the pack leader is a trait of Bichon Frises. So if you give your puppy lavish praise and healthy treats during training, he will do everything possible to please you.
Your puppy will love learning to do tricks, especially for treats.  But your dog may expect a treat or reward every time she listens to you.  That's not a good thing.
There is a better way. What if your dog simply decided to listen to you, every time?
If you use renowned trainer Doggy Dan's simple methods, that is exactly what will happen. You'll end up with a terrific dog who loves being obedient!
You will need to be patient and consistent with your puppy obedience training.
After all, your new puppy is like a baby in many ways, and her attention may wander easily to food or play.
Getting Start with Training
With this in mind, set up a training schedule and stick to it. Start with one specific behavior and work on that until your puppy masters it. Then move on to another command. You will still have to reinforce your efforts with the first behavior during this second period for long-term imprinting.
With a Bichon Frise, you need to avoid harsh reprimands. Your puppy is sensitive to anger and harsh tones. Therefore, rather than punitive training, focus on positive reinforcement and give your puppy breaks for going potty or just romping with you.
A dog obedience collar can help you communicate to your dog, making training a whole lot easier.  Just don't use it as punishment.
If you use hand signals, you can also use treats as an additional support.
Gain access to the Doggy Dan videos for 3 full days for just $1.  Then decide if you want to continue with the program.  Access Doggy Dan's videos now…
When to Start Puppy Training
Dog training experts tell us that you will get better results from dog training when you begin at very young ages.
Pick out specific commands (or hand signals) for each behavior and use them consistently. I like to use both hand signals and verbal commands, together.
Most owners begin with "sit" and move on to "come", "stay" and "down". Bichons learn fast and move quickly to the next command.
Your dog's personality determines which behavior he needs most. A Bichon puppy who loves to run after things, for example, should learn "come" or "stay" first.
With basic puppy  training, your Bichon Frise will learn her name, learn new tricks and she will bond with her pack.
In return, you will have a healthy happy puppy that's bound to be a joy in the family for many years to come.
For just $1 you can access dozens of professional dog training videos online.  View them for 3 days at your leisure.  Give Doggie Dan's system a try now…