(Psst: The FTC wants me to remind you that this website contains affiliate links. That means if you make a purchase from a link you click on, I might receive a small commission. This does not increase the price you'll pay for that item nor does it decrease the awesomeness of the item. Linda)
Training your dog to sit can help you keep your Bichon Frise under control when she is excited or anxious.
"Sit" is the primary command for any Bichon Frise puppy. There are many reasons for this, but safety ranks at the top of the list.
A Bichon Frise dog startles and becomes distracted as easily as any other young dog, which can put him in harm's way.
By training your dog to sit on command, you can protect and control your dog's actions in difficult situations, even from a distance.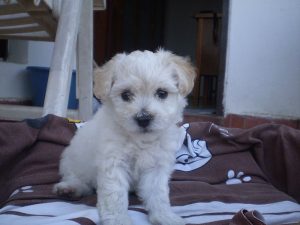 Obedience Training for Sitting
Choose a specific command for "sit" and a reward–and use both regularly. Some trainers suggest combining hand signals with verbal cues. Your Bichon needs to understand the concept of "sit" before this combination works, however.
Once he associates the word with the actual act of sitting, you can add a hand signal as reinforcement (such as two fingers on one hand moving from parallel to the ground, down to the ground).
How to Train Your Dog to Sit
Your Bichon Frise has tons of energy, so go to a quiet space for training a puppy, one where you can minimize distractions. Make sure that you have some puppy training treats in your pocket.
Hold a puppy treat or small piece of food above your dog's nose and say, "Sit".  While you are doing this, slowly move the food straight back so that it ends up behind your puppy's head.
When you do this, your puppy's bottom will end up touching the floor.  This is the time to give her a reward and tell her that you are pleased.
Repeat this several times.  Practice makes perfect.
Now, use less drama with your hand signal and give a verbal command.  It won't be long until your puppy understands what the command, "Sit" means.
Practice your puppy's new command for a short while.  Puppies do have limited attention spans, so give your puppy a break when she needs it.
To make your life easier, take a look at Doggie Dan's simple but effective dog training videos.  You can view dozens of training videos here.
Practice the Sit Command
Set aside a few minutes each day for your Bichon Frise puppy to practice learning how to sit on command.
If you have a family, make sure all family members use the same commands or signals. Otherwise you will confuse your dog.
Additionally it may be best to avoid learning any other "tricks" while training your dog to sit. Let your Bichon master one command at a time, then move on to commands like "stay" or "lie down".
If you remain consistent with praise and rewards it shouldn't be long before obeying the "sit" command becomes second nature to your dog.
Choose Bichon Frise training treats, keeping in mind that Bichons have allergies and they are a small dog breed that needs healthy dog treats.
Training treats are easy to choose with our dog training treat tips on choosing the best training treats for your small dog breed pet.
Puppy Treats for Training to Sit
How to Choose a Treat for Your Puppy
Not every dog training treat is right for your Bichon. Small dog breeds simply can't handle great big dog treats and large chews.  But they do love a treat as a reward when you are training your dog to sit!
Here are some things to keep in mind when choosing dog treats for your pet:
Size of dog treat – Bichon Frises do well with smaller or mini dog treats. Many dog treats come in different sizes. Check to see how large the treats are—before you order!
Hard or soft – As Bichons get older, many have difficulty with bad teeth. If your dog is now a senior with poor teeth and gums, you should consider getting soft dog treats, instead of the hard ones she ate as a young dog.
Flavors – While many of us have become very cost conscious, don't forget your dog's favorite flavors. Every dog will develop likes and dislikes, so don't spend less money and get dog treats that your dog simply doesn't like…
Age of your dog – Since most of us give our dogs more treats than we should, make sure that the treats are age-appropriate for your dog and they add nutrients to your dog's diet…