(Psst: The FTC wants me to remind you that this website contains affiliate links. That means if you make a purchase from a link you click on, I might receive a small commission. This does not increase the price you'll pay for that item nor does it decrease the awesomeness of the item. Linda)
Bichon Frise senior dog health care is sometimes even more complicated and frustrating than taking care of a new Bichon puppy.
You may be wondering how old is old for a Bichon Frise. Years ago the life expectancy of Bichons was about 14 years. However in recent years, Bichon Frises are living to be between 15 and 19 years, with a few even living into their low twenties.
With good care, you can extend your dog's life span by several years. This includes feeding your dog a healthy diet, keeping his weight down and making sure that he gets exercise and feels loved.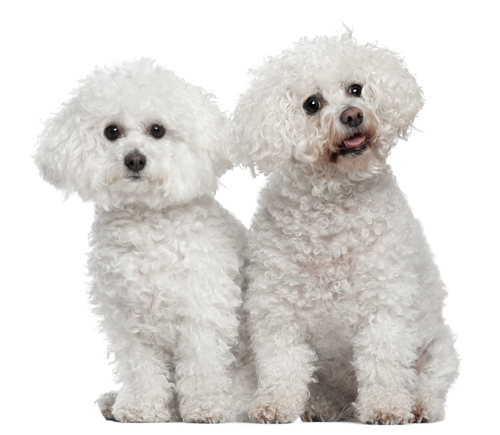 Senior Dog Health Issues
Bichon Frises are fairly healthy dogs, but they do commonly share some health conditions.
Keep in mind, however, if you choose a healthy puppy from a good bloodline, you can be fairly confident that your dog will stay healthy for most of her life.
As your Bichon Frise dog ages, just like any other dog, she may develop medical conditions that require more of your time and more trips to the vet.
Your Bichon Frise reaches middle age at about 10 years. This is also about the time that your vet might discover a serious illness in your pet.
Often a vet will run a geriatric panel on your dog, designed to detect blood issues, hormone problems and other issues of aging dogs.
The four most common health issues for small dogs, including Bichon Frises, are:
If you like to stay on top of things, you can actually test for these conditions yourself, at home. Using the HEALTH MATE VET test strips, you can screen your dog and save money and visits to the vet. If you have a positive result, you should schedule a veterinarian visit for your Bichon.
Other Senior Illnesses
In addition to the 4 most common dog conditions above, older dogs do tend to develop more serious illnesses that we don't see in younger dogs, and they lose some of their senses.
Health Conditions Common in Most Old Dogs
Canine Urinary Incontinence
While you may see incontinence in a younger dog with an underlying medical condition or urinary tract infection, it is most commonly seen in old dogs.  Fortunately modern dog incontinence products make this easier to handle.
Dog Arthritis
Arthritis can be pretty uncomfortable and disabling. Dogs with arthritis have stiff joints, just like people with arthritis.
Canine Cataracts
Older Bichon Frises can develop cataracts. If your dog does not act like she sees you or your hand signals, this might be the problem. Cataracts can be removed surgically, just like they can for people.
Canine Deafness
Do you know how to tell if your dog is going deaf? If he does not listen to your commands anymore, consider that he might not be hearing you.
Blindness
As your Bichon ages, he can lose some or all of his sight. This becomes a safety issue and you will need to learn how to care for a blind dog.  There are some wonderful products to help you with this.
Hypothyroidism
If your dog is overweight but not eating a lot of food, and she is sensitive to cold temperatures, she may have a hypothyroid problem.
Less Common but Still Serious Health Issues
Collapsing Trachea
This is another disease that is fairly common in older Bichon Frises, and you should be suspicious if you hear a clicking sound when your dog takes a breath, or she seems to be choking. It is important to see your veterinarian for this one.
Canine Vestibular Disease
Your veterinarian can diagnose this condition for your dog. It's an inner ear disorder that makes your dog dizzy. This is not necessarily a permanent condition, and should be addressed by your dog's vet.
Canine Pancreatitis
Quite a few senior Bichon Frises get pancreatitis. You should be on the lookout for these symptoms of pancreatitis. A high fat and low carbohydrate diet can cause this, but it's not always a dietary issue.
Dog Cancer
Just like people, as a dog ages, he is more likely to develop cancer.  Bichon Frises are among the to 10 dog breeds at risk for cancer.  Dogs can also get skin cancer.  Here's what you can expect for dog cancer treatment.
New Products for Old Dogs
No one likes to get old, nor do we like to see our dogs get old! But, with all the new technology and products on the market, senior dog health can be greatly improved over what it used to be!
If your dog has suffered from senior dog health issues, you'll need to become familiar with the many great products on the market that can help him!