A healthy dog diet is important for your Bichon Frise, as this sensitive dog breed can develop numerous allergies because of poor food quality.
And, while some people advocate using raw dog food (the BARF diet) with their dogs, there are still many who prefer to buy good quality commercial dog foods
Keep in mind that every Bichon Frise dog is different, so a diet that is right for one Bichon Frise, may not be best diet for your dog.
Commercial Dog Foods
If you are like many dog owners, you probably just picked a well-known brand and purchased dog food without reading the bag. After all, there are so many ingredients listed, and it is confusing and complicated to know what each one does.
However, for many of us, times have changed. After so many dog food recalls (not all from Chinese dog foods), it's hard to know what is safe and what isn't.
So now it is important to take responsibility for your Bichon Frise's healthy dog diet.
Choices are critical. In fact, every time you buy dog food for your dog, you are making a statement about how important her health and longevity is to you.
Surprise Additives in Dog Food
Big dog food companies have been adding harmful chemicals, questionable grains and meat by-products to dog's food, and most of us just assumed that we were feeding a balanced and healthy diet to our dogs. Veterinarians assumed that, too.
Unfortunately some of the most popular dog foods contained some questionable ingredients like sawdust (powdered cellulose) and ground bird beaks and feathers (crude protein).
Big company pet foods were designed to be inexpensive to manufacture and able to survive long periods of storage. Nutrition was secondary.
That all changed when, in 2004, a national study reported that obesity among our dogs and cats was becoming common. The report indicated that dog foods needed to be reformulated.
Without pressure from the public, major dog food companies did not see the need to change their formulas.
Fortunately there are some smaller dog food companies who have developed some excellent and healthy small breed dog foods for a healthy dog diet.
Homemade Healthy Dog Diet
You may want to do this differently.  Many dog owners now prefer to make homemade dog food for their Bichon.  You can make your own healthy dog food with these recipes.
Homemade dog food can be every bit as good as high quality commercial dog food, although it does require a time commitment.
Dogs are not like people in that they are perfectly content with having the very same food, day after day. You don't have to search for a variety of recipes to keep your dog interested. Once you've found a good one, you can make that one all the time.
How to Change Your Dog's Food
When you change dog foods, whether to another commercial dog food or to a homemade dog food, make the change gradually.
Every day for a week, add more new food and subtract some old food. At the end of the week, your dog should be eating all "new food".
If you change your dog's food too quickly, she could develop diarrhea.
Watch Your Dog for Changes
How will you be able to tell if a new dog food is good for your dog? Be alert to any changes in your dog.
Here are some things to watch:
Coat – Does it look shiny and healthy?
Eyes – Your dog's eyes should be clear and bright, without a lot of matter or tear stains. Yes, tear stains can be caused by poor nutrition.
Ears – Clear without infections.
Energy level – I don't have to tell a Bichon Frise owner that your baby should have lots of energy!
Mood – Does your Bichon dog seem happy?
Bowel movements – A normal bowel movement is neither diarrhea or constipation.
Skin – Bichons have very sensitive skin and are prone to skin irritations and

allergies

. In many cases, an improper diet causes dog skin allergies.
Finding the Best Healthy Dog Diet
Most of us struggle with our first dog's diet–but we eventually do find a Bichon Frise diet that works well for that dog.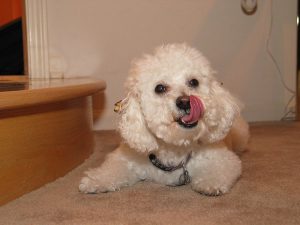 Finding the best Bichon Frise diet for your dog will give you the best chance to avoid food allergies in your dog.
The dog skin allergies so frequently seen in Bichon Frises do dictate that we really watch what our dogs eat, which is part of the reason that a Bichon Frise diet is of such interest.
And with each new Bichon Frise dog that we have, our knowledge grows–and we get a little better at understanding what each individual dog needs.
If you are careful, you can even include gourmet dog treats in your Bichon's diet.
More about a Healthy Dog Diet for Bichons
Bichon Frise Puppy Diet – Have

a new

Bichon puppy? Do you know what to feed your new puppy—and how often?
Puppy Feeding Schedule – You need to get your new Bichon Frise puppy on a good feeding schedule. Here's how to get started…
Raw Dog Food – Lots of people are talking about feeding their dogs raw food. Is it a good idea for Bichon Frises?
Puppy Bowls – You'll need some basic food equipment for your Bichon Frise dog.  Choosing a good puppy bowl is not quite as simple as it looks.  Here are some tips to help you…
Dental Dog Treats – Here's a way to kill two birds with one stone–keep your dog's teeth clean, while she enjoys her dog treats!
Apple Dog Cookie Recipe – This apple dog treats recipe is sure to be a hit with your dog, and it has healthy ingredients, as well…
Holistic Dog Food – What is a holistic Bichon Frise diet and are there any commercial brands that you can trust?
Homemade Dog Treats – Be a hero and make some healthy

homemade dog treats

for your dog. Visit my other website, Best Dog Treat Recipes, where you'll find dozens of recipes that you can make for your dog at home…
Easy Recipes for Kids: Home Made Dog Treats – This recipe ebook, created for kids to make dog treats for their dogs, has lots of recipes that are easy to make–and good for your dog! Have fun making treats for your dog, with your kids or grand kids!
Kong Dog Toys – are fun and can keep your dog occupied for hours!