(Psst: The FTC wants me to remind you that this website contains affiliate links. That means if you make a purchase from a link you click on, I might receive a small commission. This does not increase the price you'll pay for that item nor does it decrease the awesomeness of the item. Linda)
Stuffed dog toys are popular with Bichon Frises of all ages. They are soft and cuddly and they can be shaken and chewed.
Because Bichon Frise dogs are intelligent, they also appreciate stuffed interactive dog toys.  In fact, you can keep your dog from getting bored, by providing interesting dog puzzles to keep her busy and active.
Your choice of toys for your dog will depend on her age and her chewing habits. Some Bichons are delicate chewers, but others are rough and tumble and chew hard on their playthings.
Not all dog toys are equally safe, so you will have to judge their safety for yourself.
Stuffed dog toys often become best friends for dogs. This popular dog plush toy puzzle with little squirrels is challenging, as well as fun!
Durable Stuffed Dog Toys
Durability is a key factor when you purchase stuffed dog toys. Depending on your dog's overall energy level, size and age, soft toys or plush dog toys are bound to be ripped apart. Even dogs who soft mouth their toys will eventually have some tears or rips in their soft toys.
Dog squeaky toys have a squeaker inside that can be a choking hazard if your dog rips open the toy and chews on it. Since most dogs love toys that make noise, soft plush toys are often their favorites.
To keep your dog safe from bacteria and mold, machine wash and dry his toys often.
Examine stuffed dog toys frequently for rips, tears and loose threads.
This is important, as dogs can be quite adept at removing the squeakers from their toys.
Simple surgery, or repairing the broken parts by hand sewing with a needle and heavy thread, should put your dog back in business.
You don't have to have great sewing skills—this is a crude repair job to make the toy safe again!
Some of the best and safest dog toys on the market are those made from hard rubber, heavy rope and "dog treat toys" like the Kong dog toys.
Fun with Bichon Frises
By rotating different toys, you neatly extend the life of each item while keeping your dog amused. It's the same principle that parents use with their children, so that toys seem "new".
Bichon Frises want to play WITH you most of the time. Their eagerness to be with their pack means that you'll find them underfoot with a toy, ready to play, quite frequently.
Playing with your dog keeps him healthy and happy and helps keep his weight in check, avoiding obesity. And, for more fun, Bichons can even be trained for tricks with their stuffed dog toys.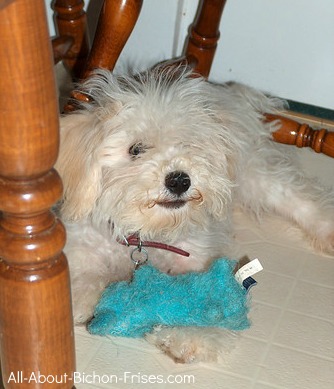 Bichons are smart and enjoy a challenge like this meerkat den with 3 adorable squeak meerkats.
Purchase Safe Toys
Take the time to research the toys you buy for your puppy, just as you would for any small child.
The Humane Society of the United States has more ideas on choosing puppy toys for safety.
But, unfortunately there is no national standard for measuring the safety of pet toys, including the potential for toxins in the stuffing.
You're on your own, for this one!