(Psst: The FTC wants me to remind you that this website contains affiliate links. That means if you make a purchase from a link you click on, I might receive a small commission. This does not increase the price you'll pay for that item nor does it decrease the awesomeness of the item. Linda)
This list of small dog breeds has some of the most popular small breed dogs and may help you find a small breed puppy, especially if a Bichon Frise is not exactly what your family needs.
Not all of the dogs included, have the same personalities. Some are meek, some are arrogant, and still others are loving or excitable.
Knowing the basics of a breed helps in determining what type of puppy is right for you and your home.
As you probably already know, I'm partial to Bichon Frise dogs. As a whole, the Bichon Frise breed has a lot of charm, energy, and an independent spirit.
However, the independence of Bichons can make house training a little tricky. If you're considering this breed be aware that you need consistency in your training and you need to make it clear that YOU are the pack leader.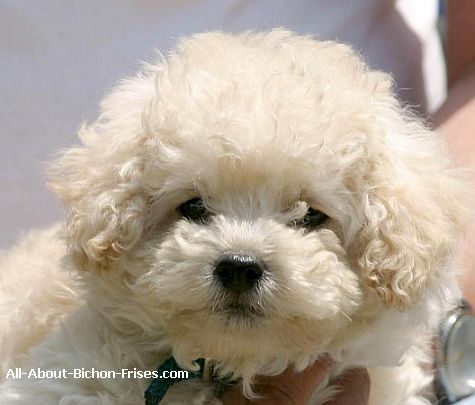 Because small breeds can be difficult to potty train, you can simplify the process and see success with Doggy Dan's surefire system!
List of Small Dog Breeds that are Popular
A Bichon pup loves to please its master, but Bichons are not for everyone. They do not take well to harsh correction. And, if left alone for long periods, they may become barkers or chewers.
But, fortunately, if you have your heart set on a smaller dog, there are other nice breeds available.
Here are some of the most popular little pups, including one that just might be right for your family.
When deciding on a dog breed for your family, make sure you understand the temperament, characteristics and requirements for each dog breed that you are considering.
This list of small dog breeds should help you get started. Then, make your choice based on how the dog will fit with your family—not how cute the puppies are!