(Psst: The FTC wants me to remind you that this website contains affiliate links. That means if you make a purchase from a link you click on, I might receive a small commission. This does not increase the price you'll pay for that item nor does it decrease the awesomeness of the item. Linda)
Trimming dog nails, a regular part of grooming your dog, can be quite stressful for both you and your Bichon Frise!
Many dogs are anxious when it is time to clip their nails. Often this is because you clipped too closely once, and your dog remembers the pain.
When you learn the right way of clipping dog nails, you can avoid stressing out your dog, and life will be a lot easier for you, too!
In addition, natural remedies such as TruDog's Calm Me can help to pacify your nervous dog when you trim dog nails. Calm Me works well for dogs that are afraid of thunderstorms, a really common stress for dogs.
In addition, people report that they use Calm Me treats to prevent separation anxiety when they leave the house. Taking a few along when you travel helps keep your dog calm in unfamiliar settings. And some hyperactive dogs even calm down a bit with these great "treats".
Our dog Skipper is fairly high strung, and Calm Me is the only thing we've found that will calm Skipper when we do try to groom her, which has been our worst nightmare.
However, many dog owners claim that using a Thundershirt Dog Jacket can calm even the most nervous dogs. A Thundershirt is a simple solution, and it is completely safe for any dog.
When trimming your dog's nails, you should also remove the hair between her foot pads.

Begin Trimming Dog Nails When a Puppy
The younger you start to trim dog nails, the more your dog will feel comfortable.
Make nail trimming time fun and enjoyable for your high strung dog, and she will be less anxious.
Another tip is to clip your dog's nails frequently. When you clip your Bichon Frise's nails more often, you are less likely to cut into the quick, which is painful and bleeds.
As grooming becomes more routine, your dog will be less anxious and afraid. Reward him with dog treats when he cooperates with you. We've found that Skipper will cooperate nicely if she gets a peanut for each completed nail.
Learn Your Dog's Nail Structure
Light colored claws are easier to cut than dark colored claws, as the blood vessels and nerves that supply the toenail, called the quick, are easier to see.
The quick is located within the center of your dog's toenails. Cutting into the quick will cause pain and bleeding. So if your dog has dark claws, do several small cuts to decrease the chance of cutting the quick.
If you accidentally do cut into the quick, use a simple Styptic Pencil to stop the bleeding. It's an old fashioned remedy, but it's simple and it works.
Call your veterinarian if the bleeding doesn't stop.
Dog Grooming Products for Trimming Dog Nails
Make sure that you use the right trimmers for your dog when clipping dog nails. There are a number of nail trimmers available in the market such as the guillotine type and the scissors type. Using a high quality, safe tool will insure that you don't hurt your dog while clipping her nails.
Guillotine Dog Nail Clippers are usually the easiest to use in dogs. I like the kind that has a stopper, to keep you from cutting the nail too short. This is another scissors type nail clipper, often used to trim a long toenail that curls in a circle.
Another option is the new pet nail grinder which grinds your dog nails to the desired length. Some dog owners have found that their dogs are calmer using a nail grinder, than when using clippers for their nails.
Calming Your Dog To Clip His Nails
Some dogs may sit happily on your lap without need of restraining, but a nervous dog will definitely be a lot to hold when you are trimming dog nails.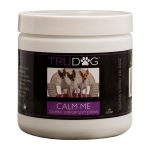 Having another person hold your dog while you cut her nails can make it easier. Some dogs will do OK, if you put them on a table while you work on trimming nails. Others may need some form of sedation.
TruDog's Calm Me is a natural remedy used to soothe nervousness and promote calmness. You can use this to calm your nervous dog so you don't have to restrain him. Using Calm Me is a safe way to calm your dog, with no side effects.
How to Start Cutting Your Dog's Nails
Start at the tip of the nail and clip a little at a time. When you start to see pale pink tissue near the top of the cut edge, that is your cue to stop. You can use a nail file to smooth the edges later.
Remember to trim the dewclaw nail, on the inside of the leg, unless the dewclaws were removed when your dog was still a puppy.
Trimming dog nails is not supposed to be a stressful activity for your pet. It's up to you to learn the proper way of cutting dog nails to decrease canine anxiety in your dog.