(Psst: The FTC wants me to remind you that this website contains affiliate links. That means if you make a purchase from a link you click on, I might receive a small commission. This does not increase the price you'll pay for that item nor does it decrease the awesomeness of the item. Linda)
Bichon Frise dog tear stains are reddish or brownish marks or stains that are found on the inside corner of a dog's eyes or just below his eyes.
While dog tear stains can look pretty nasty, they usually don't pose a serious health risk.  However, tear stains can  indicate that your Bichon Frise has allergies or that she needs a change in diet.
Because of the nasty appearance of dog tear stains, most people will want to find a way to remove the stains. And, if you have show dogs, removing the tear stains becomes even more important.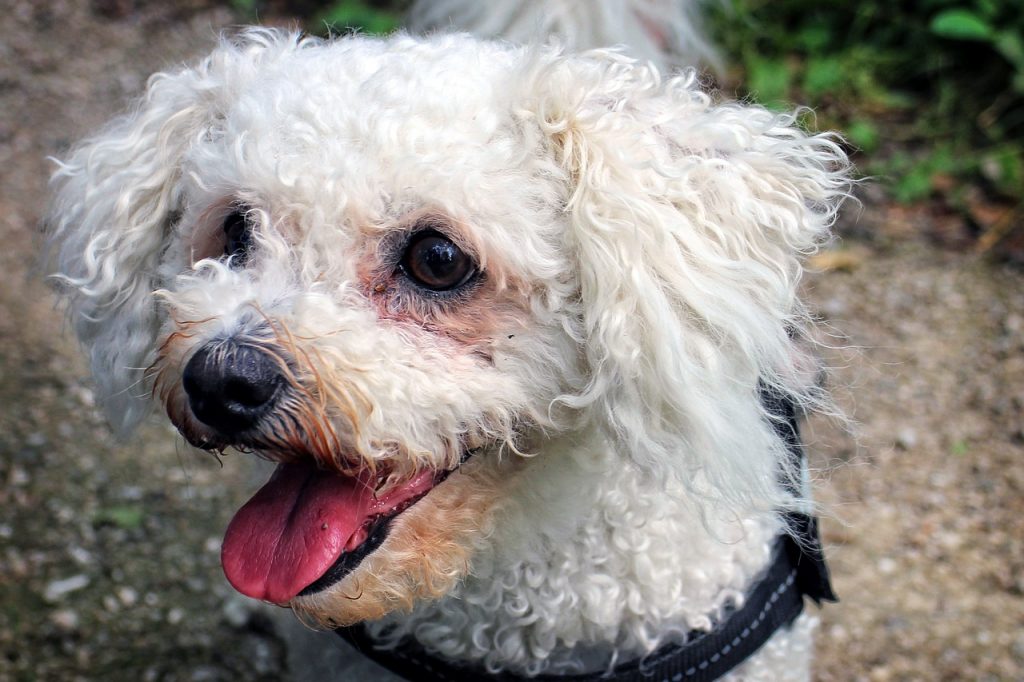 Who Gets Tear Stains?
Most often, we see dog tear stains on white or light haired dogs. Perhaps other dogs have tear stains, but light hair makes makes the stains more obvious.
Dog tear stains are common in the Bichon Frise, as well as in miniature and toy poodles, Maltese, German shepherds, and chihuahuas.
What are Tear Stains?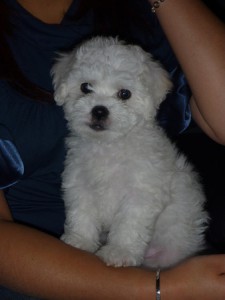 Tear stains in dogs are caused by excessive tearing. A dog's tears form a warm, damp area around his eyes.
This is important because warmth and dampness provide a perfect environment for bacteria, yeast, or fungi to grow.
Often Red Yeast is the culprit. Red Yeast is colored red, which is why so many Bichon Frises have red tear stains around their eyes.
If your dog has a Red Yeast infection, the yeast stains your dog's hair where it is moistened by tears.  This yeast staining is the reddish-brown color you see around your dog's eyes.
Dogs don't cry. So what causes the excessive tearing? Your dog's eyes can tear because of irritations, allergies, or the genetic structure of your dog's head around his eyes.
Why Dogs Get Tear Stains
Your Bichon Frise dog may have dog tear stains because of:
Genetic predisposition – He may have been born with abnormalities in his tear ducts. If they are blocked, your dog's vet may have to irrigate the ducts. If the tear ducts are completely clogged, they may have to be opened surgically.
Ear infections – Ear infections can cause excessive tearing and mucous in your dog's system.
Dog Allergies – Dog allergies cause tearing of the eyes, just like they do in humans.
Cutting teeth – Puppies who are teething can slobber and have tears in their eyes.
Unhealthy diet – If your dog's diet does not have everything she needs, or your Bichon is allergic to her food, she can develop tear stains. Learn more about a healthy Bichon Frise diet here.
Water with lots of minerals – iron in water can combine with the protein in tears (lactoferrin) and bind together to cause tear stains.
Irritation from fleas – Many Bichon Frises are allergic to flea bites. If the area around your dog's eyes is irritated by flea bites, his eyes can tear excessively.
How to Remove Dog Tear Stains
Depending on how bad your dog's tear stains are, you can attack the problem in a number of different ways…
Tear Stain Remover Combs
Made of stainless steel, these tear stain remover combs were designed to remove eye gunk from small dogs. The combs are designed to remove the matter without pulling or annoying your dog. Used by professional groomers.
Pet Post! Dog Tear Stain Remover Wipes
These pre-moistened wipes make it easy to clean the area around your dog's eyes. You will have to clean your dog's eyes regularly, and if you do, these convenient wipes do work. They are made from healthy natural ingredients, with no chemicals added.
The tear stain remover wipes are a soft cotton, designed to be gentle. And if you are not 100% happy, the company will cheerfully refund your money. Based on customer reviews, I don't think this will be an issue.
ANGEL Eyes Dog Tear Stain Remover Supplements
Probably the best known product on the market, Angel Eyes has changed their formula. I used to recommend this product as my first choice, but the new formula does not work as well as the old. Many people are now dissatisfied with Angel Eyes Tear Stain Remover. This product has not been tested for safety with pregnant dogs, so do use caution if you think your dog may be pregnant.
Pet Post! Dog Whitening Shampoo
Dog whitening shampoo will help keep your Bichon sparkling white, and it has some other advantages for Bichon Frise owners.
It controls matting and tangling, which is also a Bichon issue. Pet Post works to hydrate and moisturize your Bichon Frise's delicate skin with its coconut oil and aloe vera. It has a light watermelon scent.
Prevent Tear Stains in Your Dog
Here are some simple ways that you can minimize Bichon Frise dog tear stains. What you do, will depend on what is causing the stains.
Grooming
Routine Eye Care
Simply taking care of your dog's eyes can go a long way toward preventing tear stains.  Unfortunately you need to clean your dog's eyes regularly, perhaps daily.
Trimming
Keep the hair around your dog's eyes trimmed. This will make it easier to keep the area free from stains. It also allows air flow and helps the area stay dry.
Bath Time
After bathing your Bichon Frise, dry her ears thoroughly. Pluck the hairs from her ear canals. While ear care may seem unrelated to your Bichon's eyes, ear infections can cause eye tearing and can lead to the stains beneath your dog's eyes.  If the cause is environmental allergies, a hypoallergenic shampoo should help.
Food and Water
Dog Food
Most Bichon Frise allergies are related to food. If you think this is an issue for your Bichon, consider switching to a healthy dog food designed for dogs with allergies. Grains are often an allergen, so pay attention to the ingredients on the package.
Water
Give your dog bottled or filtered water, if your tap water is full of minerals like iron.
Dog Bowl
Serve your Bichon Frise her food and water in stainless steel bowls. Some plastic bowls harbor bacteria which causes facial discoloring and/or tear stains.  Just as important, remember to wash your dog's bowls frequently.
A raised dog bowl helps reduce neck and joint stress.  This raised dog bowl set
also keeps the mess contained because it has sides that prevent splashing.  Even spilled water is redirected to a lower reservoir, instead of onto your floor.
Probiotics
Give your Bichon a teaspoon of plain 100% natural low fat yogurt 3 times a week. The live active cultures found in yogurt will help boost her immune system.  Or you might try a product made just for pets, like Purina Pro-plan Veterinary Probiotics for Dogs
.
Apple Cider Vinegar
Add a teaspoon of organic apple cider vinegar (with the Mother) to your Bichon Frise's drinking water. This will change the PH balance of the water and discourage yeast and bacteria. Yeast and bacteria can cause infections and Bichon Frise tear stains.
Pick Your Puppy Carefully
Of course you should purchase your puppies from responsible Bichon Frise dog breeders who will breed puppies based on positive breed characteristics. The reason for this is that you want to eliminate puppies with a genetic disposition for eye tearing and tear stains.
If your Bichon Frise has tear stains, you are not alone.  When you look around, you will see many light colored dogs with tear stains.  Tear staining is very common with light colored dogs.
However, a little prevention, good grooming and perhaps a good tear stain remover for dogs, should help you keep your dog looking healthy and attractive.