(Psst: The FTC wants me to remind you that this website contains affiliate links. That means if you make a purchase from a link you click on, I might receive a small commission. This does not increase the price you'll pay for that item nor does it decrease the awesomeness of the item. Linda)
The Bichon Frise hair cut can be formal or informal, depending on whether your dog is a show dog or simply a pet with a casual hair style.
The two different haircuts are called the pet cut or puppy cut and the show cut or Bichon cut.
Hair cuts along with proper, regular combing and brushing, are what give this dog breed its fluffy powder-puff appearance.
Casual Bichon Frise Pet Hair Cut
The pet or puppy cut is the haircut most commonly seen on Bichon Frises. Most family pets who are not show dogs are given the simpler pet cut.
If you choose the pet cut, your grooming job is easier to do and it is easier to maintain. This style is much more manageable, in part because there is less matting.
For the puppy cut, the coat is cut fairly short and in many cases it is clipped. You'll need a good set of dog clippers if you are going to do this yourself.
A cheap set of clippers will not cut through your Bichon's thick coat very easily. Save yourself some frustration, and get good equipment!
Even if your Bichon has the puppy cut, you should still brush and comb her at least 3 times a week to remove dead skin and debris from her coat and to keep tangles and matting to a minimum.
Of course you may decide to cut your dog's hair yourself.  Even so, it's still a good idea to plan on going to a professional groomer every month or two to maintain the pet cut.
Claim your FREE mini-course on Bichon Frises now…
Formal Bichon Frise Hair Cut
The other popular Bichon Frise hair cut is called the show cut or Bichon cut. If you plan to show your dog and compete, you must groom your dog with the show cut.  It is a requirement for competitions.
Of course you may prefer this cut, even if you won't be showing your dog. The show cut is for people who have ample time to groom their dogs daily.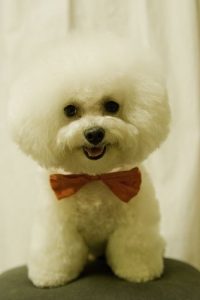 Done entirely with scissors, the show cut is absolutely beautiful –no clippers allowed here!
Because the hair is much longer for the show cut than for the puppy cut, you will need to brush and comb daily, to eliminate tangles and matting.
If you have lots of patience, lots of free time, and want the best possible look for your Bichon, then you might really enjoy this Bichon hair cut.  Grooming time is an opportunity for you to bond with your dog.
Most Bichon Frise owners take their dogs to a professional groomer monthly to maintain the Bichon show cut.
Or, better yet, learn to take care of your Bichon Frise's daily grooming at home!
Claim your FREE mini-course on Bichon Frises now…