(Psst: The FTC wants me to remind you that this website contains affiliate links. That means if you make a purchase from a link you click on, I might receive a small commission. This does not increase the price you'll pay for that item nor does it decrease the awesomeness of the item. Linda)
Cleaning your dog's ears takes only a few minutes, but it can prevent common ear problems like wax buildup, ear infections and dog ear mites.
While some vets recommend that you clean your dog's ears daily, if you clean them just once a week, you will prevent most ear problems.
And there are a number of reasons that this should be part of your dog's regular grooming…
Why Cleaning Dog Ears is Important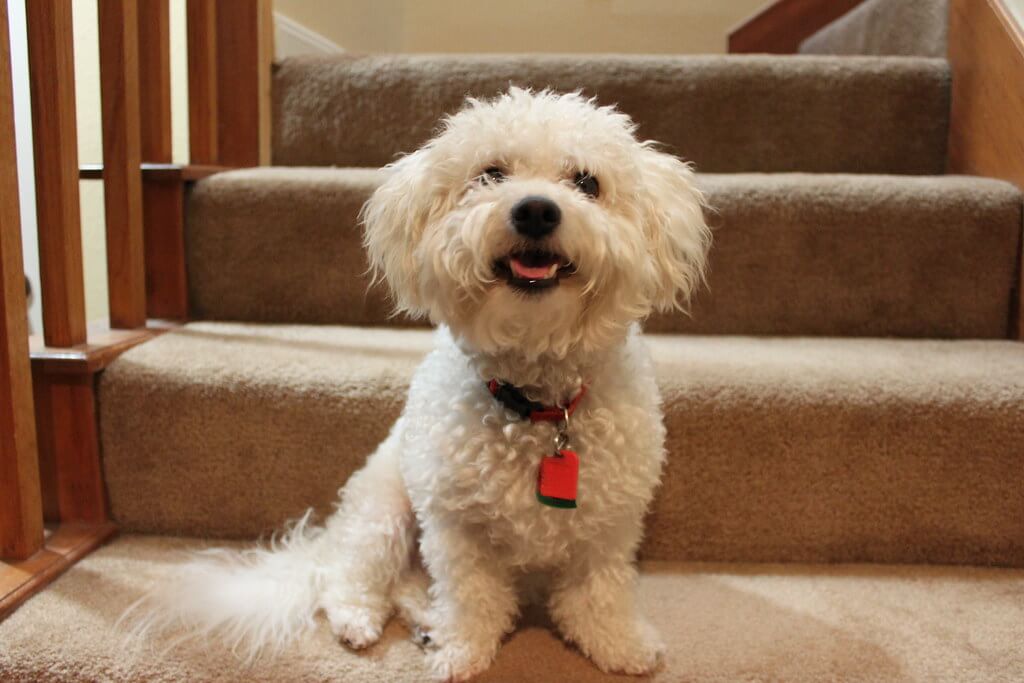 Bichon Frises and other dogs with floppy ears are especially prone to dog ear problems.  Because their hairy droopy ears block off air circulation to the inside of their ears, Bichons often develop yeast and bacterial infections or ear mites.
Just like your ears, your dog's ears make ear wax.  And his ears trap dirt, grow hair and retain moisture—providing a very good environment ear infections.
Occasionally a Bichon who spends time outside, will get something like grass seed in his ear.  You can often remove this carefully if your dog allows you to handle his ears.  To do this, use a specially designed cotton swab for dog ears.  Be very careful if you choose to do this.
Examine Your Dog's Ears Regularly
When cleaning dog ears, you should make a quick but important examination of your dog's ears, to make sure that they are healthy.
Here are some things to look for:
Redness
If you see redness in or around your dog's ear, this could be a sign of infection, inflammation or irritation from scratches
Dog Scratching his Ears
If your dog scratches his ears, they may be itchy or painful.  In either case, your dog is telling you that something is not right with his ears. Your dog's itchy ears can mean anything from built up wax to infections or dog ear mites.
Ear Pain
All dogs like to have their ears rubbed.  However, if your dog pulls away when you try to do this, he may have pain in his ear.
Lots of ear wax
Some ear wax is normal and healthy for dogs, but lots of ear wax that looks reddish brown or streaky, or ear wax that smells, is not normal.
Hair inside the ear
Hair in your dog's ears blocks air flow and catches dirt and wax.  It also provides a moist area for fungus or bacteria to grow in.
Parasites
Check for ticks and fleas.  And your dog may have ear mite parasites if you see little flecks or specks.
Smelly dog ears
Your dog's ears should not have a foul smell.  If they do, they may be infected.
Discharge
Healthy dog ears do not have a discharge.  If your dog's ears have liquid coming out of them, it is time to take her to the vet.
What You Need to Clean Your Dog's Ears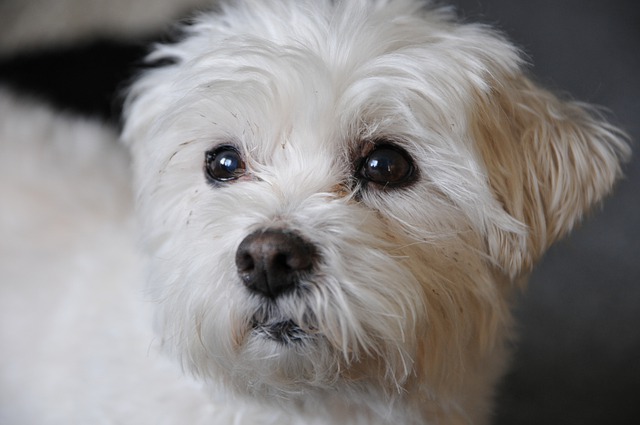 You need to clean both the inside and the outside of your Bichon Frise's ears.  Gather the things you will need, before you sit down with your dog.
Straight Non-Locking Hairmostat Hair-Puller
Used by veterinarians and groomers, this tool pulls overgrowth of hair in a dog's ears.  The Hairmostat is used to gently pull hair from your dog's ears.
My dog Skipper is very sensitive to having her ears handled.  She really does not like to have her hair pulled.  This is one tool that we do not use with Skipper.  However, many dogs do seem to tolerate this well when they go to the vet or groomer.
Blunt tipped scissors
Use this kind of scissors when cleaning dog ears and trimming delicate areas–especially if your dog is prone to move quickly or become startled or afraid when being groomed.  I prefer to use blunt ended scissors for any trimming that I do.  I just am more comfortable using blunt tipped scissors, knowing that I won't poke Skipper by accident.
Cotton pads (not cotton balls) or Dog Ear Wipes 
Ear wipes are convenient for cleaning dog ears and they do remove wax from outer ear areas.  Keep a container of these in your truck for quick ear cleaning after playing at the dog park or a romp in the woods.
Dog Ear Wash with Tea Tree Oil
This particular ear wash has tea tree oil.  It helps to remove ear wax and dirt, and it's a great dog ear care product to use after your Bichon Frise has been swimming.
Dog Ear Mite Relief Product
Since Bichons do tend to have ear mites, infections, etc., you would be wise to have an ear mite relief product on hand.  Using it will save you a trip (and the expense) of going to the vet.
Towel
Make sure you have a towel handy, so you can catch any spills or messes.
You should not use Q-tips, alcohol, or hydrogen peroxide when cleaning your dog's ears.  Q-tips can damage your dog's ear drum, and alcohol can dry out the inner ear too much.  Hydrogen peroxide damages the sensitive tissue inside your dog's ears.  Over time, hydrogen peroxide can actually damage the ear itself.
How to Clean Dog Ears – the Outside
Hold your dog's ear up with one hand.  With the other hand, gently wipe away any dirt and wax under the ear flap.   You can use a cotton pad dampened with dog ear cleaning solution to do this.
You will see lots of nooks and crannies in your dog's ears.  Gently wipe them clean, making sure that you don't push dirt further into the ear.  Keep cleaning these areas until you don't see any more dirt or wax on a clean cotton pad.
If there is hair in your dog's ears, remove these hairs with tweezers, one or two at a time.  Removing more hairs at a time can be really painful!  Dog Ear Powder makes this easier, as it makes the hair easier to grip.
Cleaning the Inside of your Dog's Ears
Now you have to clean the parts of your dog's ears that you don't see.  You are NOT going to put any objects into your dog's ears, as they could damage her ears.
Gently squirt some of the ear cleaning solution into your dog's ears.  Be careful to squeeze gently and keep the tip of the bottle, in the outer portion of the ear.  Your dog's ear drums are delicate, and you want to be sure that you don't damage them.
Now massage your dog's ears, right below the ears (on the outside), where they attach to your dog's head.  This will help the solution reach the inner ear before your dog shakes her head and shakes it all out.
Let your dog shake away. You'll probably need the towel for this part.  You'll need to wipe down your dog's face and protect yourself from spray.
The ear wash solution will bring wax and debris up to the outer ears, where you can wipe them clean with cotton pads.
That's all there is to cleaning dog ears!  If you do this routinely, your dog's ears will be cleaner and healthier—and you'll have fewer trips to the vet.
Claim your FREE mini-course on Bichon Frises now…