(Psst: The FTC wants me to remind you that this website contains affiliate links. That means if you make a purchase from a link you click on, I might receive a small commission. This does not increase the price you'll pay for that item nor does it decrease the awesomeness of the item. Linda)
Canine Rheumatoid Arthritis is a form of arthritis where a dog's immune system turns against him.  Your dog's body becomes his enemy. His immune system actually attacks his joints.
Just like rheumatoid arthritis in people, rheumatoid arthritis in dogs inflames the joints and causes heat, redness, swelling, pain and tissue damage in joints.
However, unlike osteoarthritis which mainly affects joints, rheumatoid arthritis can also affect other organs like the skin, heart and lungs.  Sadly, rheumatoid arthritis is a systemic disease that affects the whole body.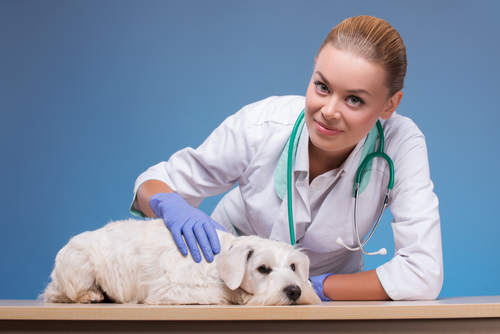 Fortunately rheumatoid arthritis in dogs is not nearly so common as osteoarthritis.
Symptoms of Canine Rheumatoid Arthritis
Like osteoarthritis, the symptom that you are most likely to notice is your dog limping or his lameness.  Similarly, rheumatoid arthritis does cause pain in a dog's joints.
These symptoms are typical:
Lameness where a dog shifts his weight from leg to leg
Difficulty rising from a lying down or sitting position
Even walking a short distance looks painful
Your dog does not run anymore
Difficulty climbing stairs or hills
Jumping into cars, onto bed or sofa becomes difficult or your dog simply does not do it anymore
Fever
In dogs, the joints that are most commonly affected are the carpal or wrist joints, the tarsal or ankle joints and the toe joints.  If you look closely, you will probably see some swelling and the affected joints will be warm to the touch.
Diagnosis of Rheumatoid Arthritis
When you take your dog to the vet, the first thing your vet will do is examine your dog's joints.  If your veterinarian is suspicious of arthritis, she will order more tests to confirm or deny that diagnosis.
To confirm the diagnosis, your vet will do these tests:
Your vet will take your dog's temperature.  She is looking for a fever.  You may be asked to do that at home, to see if your dog runs a temperature frequently or all the time.
X-rays of the joints – Is there swelling or other indications of arthritis
Blood tests
Laboratory analysis of the fluid removed from the suspicious joints
Dog Rheumatoid Arthritis Medications and Diet
Of course you will want to make your rheumatoid dog comfortable.  In addition, your vet will prescribe some medications specific to rheumatoid arthritis.
It is important to follow your vet's directions carefully, as some human medications like Rimadyl can put extra stress on your dog's liver.
Equally important is your dog's diet.  Make sure your dog is getting all the nutrients that she needs for a healthy body and healthy joints.  This is especially important because some vets believe that there is a connection between rheumatoid arthritis and allergies.
With all their allergy issues, Bichon Frises need to get good food that doesn't trigger allergic reactions.  And supporting a healthy immune system is thought to protect your dog from rheumatoid arthritis.  Hill's Science Diet for Seniors has a proven formula for older dogs.
In addition, dogs who have arthritis symptoms will also benefit from a couple of supplements that you might be taking, as well.
The Missing Link hip and joint supplement is used successfully with senior dogs for pain relief of arthritis.
If your dog has been diagnosed with rheumatoid arthritis, you can keep her comfortable and relatively pain free.  Some modifications to her environment will help, as will special attention to your dog's diet.