(Psst: The FTC wants me to remind you that this website contains affiliate links. That means if you make a purchase from a link you click on, I might receive a small commission. This does not increase the price you'll pay for that item nor does it decrease the awesomeness of the item. Linda)
Choosing a senior dog food for your aging dog can be a challenge, with all the choices available. However, if you know what to look for, choosing food for your senior dog becomes easy.
Dogs, like people, age differently and they have different needs as they get older.
As you consider what kind of senior dog food to give to your dog, keep in mind your dog's health, her activity level and any allergies that she might have.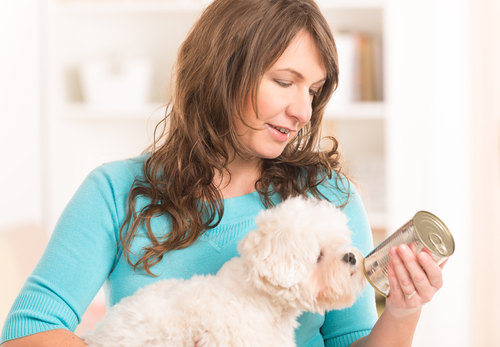 This article will discuss:
Nutrition and Your Senior Dog
Has Your Older Dog's Appetite Changed?
Food Allergies and Senior Dog Food
The Digestive system in older dogs
What to Look for in Senior Dog Food
Supplements to Keep Your Old Dog Young
Nutrition and Your Senior Dog
Choose the senior dog food that you give your Bichon Frise dog, keeping in mind your dog's allergies, medical conditions and diseases, weight and whether your dog continues to be active.
All dogs are different and your dog may have different needs than his cousin down the street.  Your dog's physical condition and her medical issues are far more important than her age when choosing the best senior dog food for her!
Many senior dog foods have these characteristics:
Reduced calories
Is your dog overweight? Instead of looking for a lower calorie dog food, you should feed your dog a smaller amount of high quality dog food.
Using portion control and making sure that your dog gets plenty of regular aerobic exercise will help your overweight dog to lose the extra pounds.
Reduced protein
Your old dog actually needs more protein than she did as a young dog. The reason that senior dog foods often have less protein is complicated.
Cheaper commercial dog foods often use an inferior protein source that puts stress on the kidneys and liver.  As your dog ages, if she has always had the same lower grade dog food, she won't be able to handle very much protein.  Hence the low protein dog food.
If your dog has been eating higher quality protein all his life, he will actually need more protein as he ages.  And he will continue to be more active and healthy.
Increased fiber
This is often recommended because some senior dogs get constipated. If your senior has food with more fiber in it, he will poop more.  However, fiber moves through the digestive system quickly, and it takes many nutrients with it along the way, robbing the body of precious nutrition before it can be absorbed.
With a high fiber diet, your pet is losing vitamins, minerals and antioxidants.  Instead of a high fiber dog food, provide your dog with a balanced high quality dog food that is moist and supplement with digestive enzymes and probiotics.  Make sure your dog drinks plenty of water and gets lots of exercise.  If you still feel that your dog needs some extra fiber, consider one of these healthy choices:
Canned Pumpkin
Pumpkin is great for diarrhea or constipation. A can of pumpkin goes a long way, too.  Simply top your dog's food with 1 tsp. for every 10 pounds of dog.  Once or twice a day is adequate.  I also like to make homemade dog treats with pumpkin as an ingredient for Skipper.  You can buy pumpkin dog treats, as well.
Green Leafy Vegetables
The same green leafy vegetables that you love are good for your dog. Just give her a leaf or two each day to keep her healthy.
Coconut Fiber or Flour
Give your dog 1 tsp. of coconut fiber or flour, for every 10 pounds of body weight, 1-2 times each day on your dog's food.
Psyllium Seed Powder
Just as it works as a laxative for people, psyllium husks also help your dog. Just add ½ tsp. for every 10 pounds of body weight on your dog's food once a day.
Has Your Older Dog's Appetite Changed?
Increased Appetite
If you change your dog's diet to a senior dog food and she appears to be hungry all the time, it could be due to a couple of reasons.
Some senior dog foods have fewer calories, and your dog may not be getting enough for his needs.  If you want to continue with a specific dog food, you may have to give your dog more food than the package indicates.
The other reason that a dog might have an increased appetite is an underlying disease or parasites.
Cushing's disease causes more hunger, as does prednisone therapy, malabsorption of food and intestinal parasites or worms.
Loss of Appetite
On the other hand, some senior dogs lose their appetite.  It is normal for a dog to go a day or two without eating if he has a digestive disturbance.  However, if your dog does not eat for three days or more, this can be a problem.
Not eating can lead to starvation.  And your dog can also have diarrhea, anemia, poor wound healing and suppression of your dog's immune system.
Your vet may need to do the investigation about your dog's anorexia.  It could be caused by Addison's disease, congestive heart failure, dehydration, dislike of his dog food, hypothyroidism, kidney disease, liver disease or pancreatitis.
Food Allergies and Senior Dog Food
As you may know, Bichon Frises are known for having food allergies.  In fact, as your little Bichon ages, the chances of her developing food allergies increases.
Food allergies develop over time.  Your dog becomes allergic to foods that she eats routinely.  Generally speaking, the way to handle this is to feed your dog a new, novel dog food.  Something she has not been eating on a regular basis.
Often an allergic Bichon will be OK with lamb, turkey, salmon or with a more exotic meat like kangaroo, bison or venison.  Unfortunately dogs just don't outgrow their allergies.
The Digestive System in Older Dogs
Your dog's digestive system includes a number of organs:  the mouth, esophagus, stomach, liver, pancreas, intestines, rectum and the anus.
Just like people, a dog starts digesting his food when it enters his mouth.  Enzymes start breaking down the food in the mouth.  However, if your dog is like mine, this happens pretty quickly and the food moves on.
After the food is swallowed, it breaks down further in the stomach where nutrients are absorbed and waste products move on to the intestines.
Your older dog needs to digest food thoroughly to get all the benefits of his food.  Unfortunately, as your dog ages, this process becomes less efficient.
Dogs with digestive difficulties can have diarrhea, changes in the color, consistency or frequency of their stools (poop) or pain in their stomachs.
What to Look for in Senior Dog Food
Your senior dog will do well if his dog food has some or all of these ingredients:
High quality protein from meat – Meat should be the first ingredient listed on the package. It should not be ground corn, meat meal or meat by-products.
Fruits and vegetables – These are good for your senior dog. They provide lots of healthy vitamins and minerals.
Brown rice and lentils – Also provide healthy nutrients.
Probiotics and prebiotics – Help with digestion. As your dog ages, she may need more help with digestion than she did as a younger dog.
Small crunchy kibbles – These are easier to bite and chew than large chunks. If your dog has teeth and gum problems like many Bichon Frises, you may have to get him moist canned dog food.
Supplements to Keep Your Old Dog Young
As your dog gets older and has more trouble digesting his food, high quality supplements can help keep him young and healthy.
SAMe – Studies indicate that SAMe is safe and very effective for preventing and improving the mental function of dogs. SAMe is a substance found naturally in every cell of your dog's body, especially the brain.  In people, we believe that a decline in SAMe leads to Alzheimer's.  SAMe can help keep your dog's mind active and aware.
Vitamin B6 – Vitamin B6 inhibits the production of free radicals, one of the causes of mental decline in old dogs.
Vitamin E – Protects against DNA damage and memory problems. Vitamin E has been shown to reverse age-related memory issues and improve cognitive function.
Mineral Supplement – This natural mineral supplement is gathered from wild herbs. Uses plants sought out naturally by wild dogs.
Resveratrol – Found naturally in grapes and in elderberries. Protects against free radicals and beta-amyloid deposits, which are a factor in Alzheimer's.  Resveratrol protects against some viruses like the flu.
Ginko Biloba – Protects against dementia and improves mental function.