(Psst: The FTC wants me to remind you that this website contains affiliate links. That means if you make a purchase from a link you click on, I might receive a small commission. This does not increase the price you'll pay for that item nor does it decrease the awesomeness of the item. Linda)
As a pet parent, you can prevent dog behavior problems early, and correct behavior issues later by learning how to train your Bichon Frise when she is still a puppy.
Given free rein, a Bichon will happily take over your household—and become Top Dog.  You should be the Top Dog–not your cute little puppy.  A Bichon in charge of  your home is a situation that you definitely DO NOT want!
The other side of the coin, however, is that a Bichon Frise who has been properly trained, is a delightful dog to have.  She will brighten any household with her friendly and pleasant personality!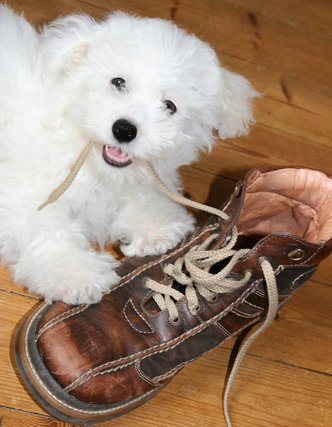 Why Does Your Dog Behave Like That?
Your dog's behavior is influenced by several factors:
Heredity
Several studies have shown that a dog's behavior can be inherited, to some extent.
So, when you are choosing a new puppy, it would be good to ask to see the mother, and the father, if he is available.
Experience and Learning
This includes your puppy's experience with his mother and siblings.
For example, if puppies are separated from a mother who is fearful, they are less likely to be fearful.  In other words, a mother dog can teach her puppies to be afraid.
And your puppy can also learn from other puppies in the litter.
In addition she learns new behavior, based on how much she was handled by people and how she was treated.  Puppies learn to enjoy meeting new people or to be afraid of them.
Physiology
Believe it or not, your dog's brain and hormones also influence his behavior.  If he has abnormal levels of certain hormones, he can be aggressive or fearful.
You can prevent behavior problems in your Bichon Frise puppy by working with him while he's young.
Cute Puppies Develop Bad Dog Behaviors
Knowing how to train a puppy is important for new Bichon Frise owners, if you want your new puppy to grow into a well behaved pleasant dog, that people enjoy being around.
While it would be nice if all Bichon Frises had perfect behavior right from the start, the reality is that you will need to work with your new puppy to teach her how to behave.
It is true that Bichon Frises are very happy, cheerful little dogs, but they can also be willful or manipulative. And they are notorious for being hard to potty train.
Watch Doggy Dan videos now to avoid behavior problems later. You can sign up for 3 full days for just $1.
In fact, Bichons are among the top 10 "hardest to house train" dogs!
Even though your puppy is cute as a button, you need to work with her to make sure that she develops good habits and learns to behave well, even at an early age.
Puppy behaviors that are cute at 8 weeks become dog behavior problems at a year and a half!
Dog Behavior Problems That Will Get Worse
Dog Barking
Before barking becomes a real problem, you need to work with your dog to control it. Uncontrolled dog barking will quickly turn your neighbors into enemies!  The tricky part about barking is that you do want to know if someone comes to the door or there is an intruder in your yard. You want your dog to alert you, then be quiet.
Dog Chewing
Toys are for chewing. Not your socks or underwear. You need to make sure that your puppy knows the difference, so that this does not become an ongoing issue.
Separation Anxiety
Bichon Frises frequently are anxious when you are gone. Dogs with separation anxiety are especially anxious if you leave for a long time.  Your Bichon will feel lonely and she will worry that you won't return.
Coprophagia
This is a nasty habit that some dogs develop. Not only is eating poop disgusting, it can also make your dog sick. CoPrevent Coprophagia is a dog supplement that makes the poop taste bitter. If your dog is eating his own poop, it could be your best bet. This is a little tricky.  You need to stop your dog from eating his own poop and then, in many cases, he'll lose interest in eating the poop of other dogs.
Puppy Biting and Nipping
A puppy nipping at your heels can easily turn to biting. Make sure that this does not become a habit with your dog…
Aggressive Dog Behavior
Are people and other animals afraid of your dog? Does your dog growl or snap at people or other dogs inappropriately?  If your cute little Bichon has become aggressive, you have a real problem. You need to nip this one in the bud!
This article discusses why dogs bite people.  And this one tells you what you need to do when a dog bites you.
Submissive Urination
Does your dog pee when she meets a new person or animal? You may have a dog that is too passive and needs some help.  This situation will continue to get worse if you don't address it.
Fears or Phobias
Unfortunately, once a dog becomes fearful or develops a phobia, he will continue to show fear every time he is in that situation.  Sometimes if you expose your dog repeatedly to a situation he fears, you will help your puppy get over her over-reaction.
Fear Aggression
This is when a dog get aggressive because she is afraid.  This kind of aggression often leads to urinary incontinence or pooping on the floor.
Marking
Marking is different from incontinence.
This is when a male dog lifts his leg on fences, trees, or your sofa to let other dogs know that this is his territory.  If your dog is marking his territory in the house, you need to stop this immediately!
Online Video Training and Forum
You don't have to struggle with your dog or puppy's behavior problems any more!  When you try Doggy Dan's gentle methods, you'll wonder why you waited so long!
You can access the Doggy Dan training videos here and get started working with your dog or puppy today.
If not trained properly, your Bichon Frise can become the Alpha dog (or dog in charge) of your household. That should be YOUR place! Training your Bichon correctly, will establish with your Bichon–that YOU are in charge!
While training your new Bichon Frise puppy may seem daunting at first, you can do it easily if you know how. You will need to schedule short (5-10 minutes) regular training sessions with your puppy.
Start working with your puppy right away. Even if you think you don't know how to train a puppy, you will learn and puppies are very forgiving.
Most importantly, you need to be consistent in your training.  You need to be patient with your puppy or dog and you need to use effective training methods.
You can prevent or correct dog behavior.  Armed with the correct information, you will be able to work with your Bichon—gently but firmly—to help him develop into a nice adult dog, that you are proud to have and love to be with!