(Psst: The FTC wants me to remind you that this website contains affiliate links. That means if you make a purchase from a link you click on, I might receive a small commission. This does not increase the price you'll pay for that item nor does it decrease the awesomeness of the item. Linda)
Looking for a bicycle dog carrier for your pet? These bicycle carriers are perfect for small dog breeds like Bichon Frises.
There are different styles available. Perhaps you are just getting started or wondering which bicycle dog carrier is best for you and your dog. You'll find some guidelines on how to choose a dog bicycle carrier further down the page.
Here are some of the best dog carriers for bicycles, that are currently on the market. They are divided into 2 categories: bicycle basket carriers and dog bike trailers.
Basket Bicycle Dog Carrier
Bicycle Dog Trailer on Wheels
How to Choose a Dog Bicycle Carrier
When looking for a good bicycle dog carrier, there are some things that you should look for and some decisions to make: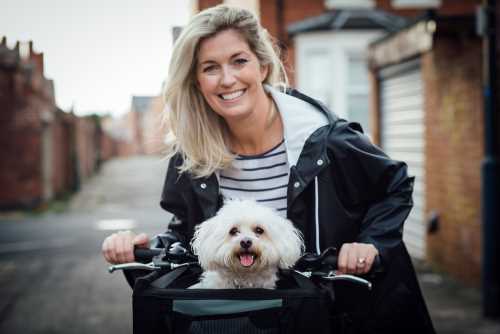 Dog Carrier Attachment
How difficult is it to attach the dog carrier to your bicycle? You won't always want to take your dog with you, so you may have to take the carrier on and off your bike.
Style
Do you want your Bichon to ride in a bicycle dog carrier basket on the front of the bike or do your prefer a little bike dog trailer that rides along behind the bicycle? Both styles work for a Bichon Frise.
How Large is Your Dog?
This may help you determine what kind of dog bike carrier is best. Typically, smaller dogs ride in the front, and larger dogs ride on the back—or on a dog bicycle trailer.
Some small dogs like Bichon Frises ride comfortably and happily in a bicycle trailer. Another advantage to a dog bike trailer is that some of them convert into a dog stroller or a dog jogging stroller.
Pockets and Compartments
How handy is the carrier for transporting your pet's supplies. For example, is there room for water, a travel water bowl, treats, a leash, etc.? What are the things that you routinely carry when you take your pet on an excursion?
Safety Features
You don't want your dog to jump out of the carrier or to fall, so what features on the pet carrier keep her safe? Is there a screen that keeps her in place? A harness or small leash to keep her secure? Do you feel that you need a rain cover or a sun shield for your dog?
Accessories
Sometimes the little things make a big difference. What accessories are included with the dog bike carrier?
Fashion
If having a fashionable bike dog carrier is important, you will want to look at some of the designer dog carriers on the market. Does your bicycle dog carrier make a statement?
Transportation for Special Needs Dogs
If your dog is older and plagued with joint issues that keep him from enjoying his daily walks or runs, consider getting a bike dog trailer for him.
Perhaps your dog is not old, but he was injured or lost a leg through illness or accident. In either case, a bicycle dog trailer may be the answer to your prayers.
A bicycle dog trailer provides a way for your older dog or handicapped dog to go with you. And, after all, that's what your dog misses. Being with you and experiencing the fun of going along.
He can still feel the breeze, see the sights and be part of the group. A bicycle ride with you will end up being the highlight of your dog's day!
Look at photos of the bike carriers and consider your needs. This is an important decision for both of you–and it promises months of fun together!