(Psst: The FTC wants me to remind you that this website contains affiliate links. That means if you make a purchase from a link you click on, I might receive a small commission. This does not increase the price you'll pay for that item nor does it decrease the awesomeness of the item. Linda)
Totally indestructible dog toys are difficult to find, but there are durable toys for Bichons that will last for a long time, even if your dog is a chewer.
Let's face it. Bichon Frise dogs are cute little sweethearts that look delicate and charming, but some Bichons can also be ferocious chewers!
So what constitutes a good small dog toy that will show solid performance? Some of the most popular and fun dog toys are those made from hard rubber, which is quite durable.
While it might seem impossible that indestructible dog toys exist, Kong dog toys come very close.  They have a very rugged construction that withstands heavy chewing.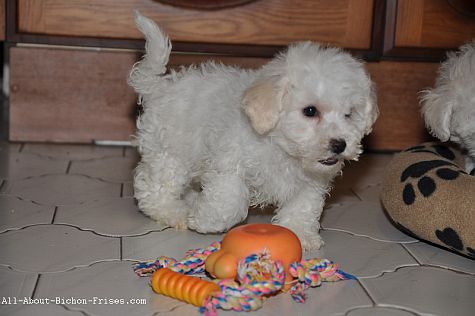 Indestructible Dog Toys for Bichons
Let's take a look at some toys that your Bichon Frise dog or puppy can safely play with, without destroying.
Small hollow rubber toys are one great way to occupy your smart pooch and keep him from negative chewing behaviors.
A bit of peanut butter or another treat tucked inside a hollow toy like the Kong toy, becomes a tasty puzzle for your dog. Better still, these durable dog toys usually cost under $15 for a Bichon's size–a great bargain if it saves a pair of shoes from bite marks!
Nylabone Chew Toys – are another well-known name in the pet industry. These aren't going to give you the mileage you get out of hard rubber Kongs, but at $10 or less each, the are a good value for your money and relatively safe. You will have to check the toy regularly for signs that pieces are wearing off. Nylabone products have the added benefit of keeping your dogs teeth and gums healthy.
Hurley – There are other fun and tough dog toys on the market including the Zogoflex® Dog Toy, a product that even floats, for fun-filled days at the beach or park. It's offered in stick form, as a ball or a bone.
goDog Furballz Plush Toy – If your Bichon likes dog tug toys, the goDog Furballz plush toy product might do the trick. This could be a treat for your dog, if he quickly destroys plush toys. The seams are double sewed and the manufacturer guarantees that these toys will last longer than the standard plush toy.
Dog Toys to Play Together
When reviewing options for indestructible dog toys, remember that your Bichon loves to interact with you, not simply play alone. That activity time also burns off excess energy and deters problems like small dog syndrome.
In short, fun dog toys are an important part of your pup's physical and mental health and well-being. They also act as a great way to build your relationship with your dog.