(Psst: The FTC wants me to remind you that this website contains affiliate links. That means if you make a purchase from a link you click on, I might receive a small commission. This does not increase the price you'll pay for that item nor does it decrease the awesomeness of the item. Linda)
Brushing dog teeth for Bichon Frises is especially important for Bichon Frises because they are prone to dental problems that can be avoided.
While brushing your dog's teeth should be a fun and exciting activity for you and your Bichon Frise, it often is not much fun.
But, without proper dental care, your Bichon Frise may develop gum infections, bad breath, gingivitis, loss of teeth and even jaw bone damage.
By brushing your dog's teeth, you are actually helping him live a longer and happier life.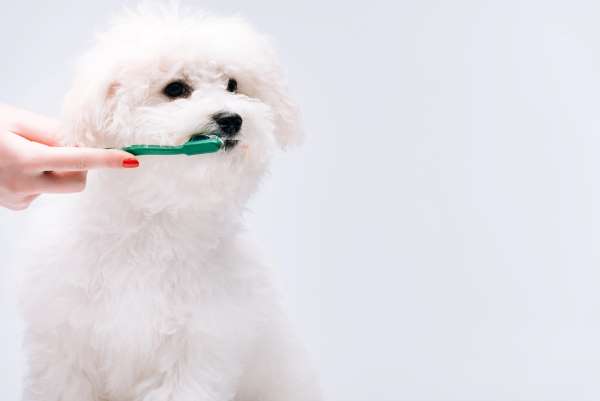 Bichon Frises are not always as cooperative as this one, when having their teeth brushed.
Dog Dental Products
To brush your dog's teeth, you will need a dog toothbrush, dog toothpaste, and dog teeth flossers.
A small dog toothbrush is specifically designed for dog teeth. It has the right angle for reaching your dog's teeth and its bristles are the correct stiffness.
Some dogs don't like to have a toothbrush poking around in their mouths, so if that is the case, a dog finger toothbrush could be a better choice. It's a little rubber-like brush that fits on the end of your finger, and a finger toothbrush has the added advantage of protecting your finger from an unexpected bite.
Using people toothpaste will only upset your dog's stomach and the fluoride is toxic for dogs. So you need to buy dog toothpaste. Dog Enzymatic Toothpaste does not have mint or cherry flavors like your toothpastes have. It usually comes in food flavors such as poultry or beef. Made for dogs, it helps to fight doggie breath.
In addition to teeth cleaning, provide your dog with fun ways to clean his teeth.  A dog rope toy is a fun teeth flosser.  It will clean your dog's teeth while he chews and plays.
How to Brush a Dog's Teeth
If you look in your dog's mouth, you can tell if her gums and teeth are healthy. Gums should be a healthy pink and teeth should be bright and shiny white down to the gums.
Dark yellow or brown spots indicate calculus or tartar. That's what you want to remove.
Here are simple steps on how to brush your dog's teeth:
Gather what you'll need
Have everything ready for brushing your dog's teeth. You don't want to interrupt your project to go find something you forgot to get.
Pick the time
Do the brushing at your dog's best time. Your Bichon Frise should be relaxed and at ease, when you start brushing his teeth. It should be a time when he tolerates your handling him.
Start slowly
Let your dog get used to the taste and feel of the dog toothpaste by putting some on your fingers and letting him lick from them.
Once he gets used to the idea of having something in his mouth, you can now start using the dog toothbrush.
Brushing Your Dog's Teeth
Lift the upper lip and gently brush back and forth. Talk to your dog in a happy manner while doing this so he'll get comfortable. Brush only a few teeth at first and stop each session when your dog gets too fussy and wiggly.
Always be gentle and do not forget to praise your dog for his good behavior. Gradually increase the number of teeth that you brush.
Be patient
Let him get used to the feeling of your brushing his teeth. Do not forcefully restrain him. Remember that brushing dog teeth should be a fun experience for both you and your dog. Don't forget to praise your dog when he cooperates with you.
Try brushing dog teeth every day if possible. This will prevent bacteria build up and tartar formation.
When All Else Fails…
Some dogs just do not do well with teeth brushing. If your dog just won't cooperate, and he has a build-up of tartar on his teeth, consider using these products:
Made by PetzLife, this dental gel is made from essential oils. It even smells good to people, and dogs love it. We give Skipper Doggy Dental Gel as she just will not tolerate our spraying into her mouth.
About a year ago our vet wanted to put Skipper under, to clean her teeth. She is sensitive to vaccinations, etc. so we decided to try this approach instead. Her teeth have improved, and so far she has dodged the bullet!
This product is well worth every cent spent on it! Made of natural ingredients, it kills the bacteria that cause bad breath, and it actually helps remove the plaque from your dog's teeth.
Using this spray regularly you could even avoid having your dog's teeth cleaned by the vet–a costly procedure that can be dangerous.
Brushing dog teeth is important to keep your dog's teeth and gums healthy. Begin dog dental care while your Bichon Frise is a puppy so that she will be comfortable with having her teeth brushed, as she grows older.