You made it – and I'm so happy to see you here!
Thank you so much for signing up to my bi-weekly Bichon Buzz newsletter. We're going to have some fun together – and I hope you'll also find it helpful.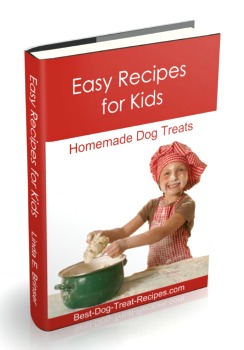 Here is your free copy of my e-book, "Easy Recipes for Kids", with recipes for dog treats that kids can make for their dogs. I hope you'll find it both entertaining and useful.
All the recipes in the book have been tested by dogs and kids and they have been vet approved.  And quite a few adults have made them, too 🙂
Each recipe uses only a few ingredients, and you probably will have them on hand right now.
Click here to download your copy…
The book will download as a PDF.
What happens now?
Soon you will receive your first Bichon Buzz newsletter, full of the latest information about Bichon Frises.
Each issue will include:
New information on a topic related to Bichon Frises
An update on new articles on my website
Special deals and discounts that I've found, just for you
Carefully researched information about Bichons
I hope you enjoy them – I'm looking forward to sharing with you.
Getting Started
My website has over 200 pages, and I know that can be overwhelming.  To help you get started, here are a few of the most popular sections:
Bichon Frise Puppy Training
Bichon Frise dog training begins early, whether you are training your dog for potty or obedience training.  A well trained dog is fun to have around and is well behaved.
 Bichon Frise Health Problems
Every dog breed is prone to some health problems, and the Bichon Frise is no exception.  Here are some of the most common health problems found with this breed.
Bichon Frise Behavior Issues
Cute as a button when you first brought her home, your darling little puppy may be turning into a monster!  Here are some common behavior problems and solutions to help…
What if you change your mind?
If at any point you decide you don't want my newsletter any more, you'll find an "unsubscribe" link at the bottom of every email. You just have to click it.
But, I hope it will never come to that – I'm looking forward to a long and happy friendship!
Have something special in mind?
I'm always open to suggestions and like to hear from other Bichon Frise lovers.  Have you been looking for special information about your dog?  Let me know.
If I feel that there's enough interest, I'm always glad to research and include topics my readers suggest.
Please feel free to contact me with your thoughts and ideas.
Linda
P.S.  Still need to sign up?  You can do that here.