Establish a puppy feeding schedule for your Bichon Frise puppy as soon as you get your new dog home, and then stick with it.
As a new pet owner you may be uncertain about healthy dog feeding guidelines. The good news is that feeding a puppy isn't difficult, but using healthy food is essential.
First of all, it's important that your Bichon Frise puppy is at least 6 weeks old when you get her. Twelve weeks is even better. A puppy who is younger than 6 weeks is not ready to be weaned from its mother and her nutritious milk.
Taking a puppy from its mother too soon, can cause stress for your puppy. Bichon Frises are a sensitive dog breed, and being stressed can cause behavioral or health problems.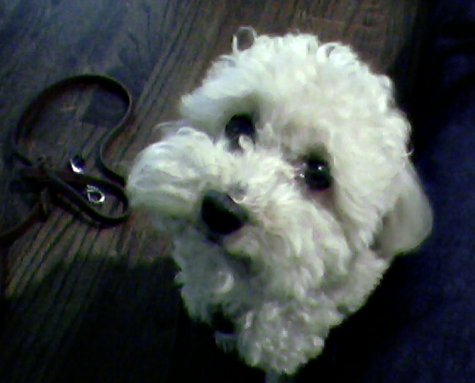 Keeping your Bichon puppy on a
feeding schedule is healthy for him.
Puppy Feeding Schedule Guidelines
At the age of two months, the average Bichon Frise puppy eats one cup of dry food in a 24 hour period.  Most pet parents do not give their dog the whole amount at once.
Using a high quality kibble for puppies, give your puppy ¼ cup four times daily.
The first serving should be in the morning after you've walked your dog. Follow at even intervals (lunch time, 3 pm, and 6 pm) allowing the dog to eat for about 10 minutes each time.  It usually won't take this long for your dog to finish her food.
It's very important to create a routine when feeding your puppy, as it will also help with successful crate training.
In addition, your puppy will need two dog bowls–one for food and one for water.  Her water bowl should always have water in it, and your puppy should be able to take a drink whenever she is thirsty.
When to Change a Puppy Feeding Schedule
Around the age of 10 weeks your puppy should be ready for three meals a day. While the amount won't change, you can adjust the timing so it better fits your family's schedule.
As before, you want to give the dog the first 1/3 cup portion in the morning followed by another 1/3 cup at lunch, and the last 1/3 cup at dinner.
Following this pattern of having the last meal at the same time as your own will help your dog get through the night without needing to be walked.
At six months of age, your Bichon Frise's meals can be reduced to two a day – one half cup in the morning and one at dinner time.
Continue feeding your dog puppy kibble until he is a full year of age, at which time you can switch to a high quality adult mix.
Fussy Puppy?
Bichon Frise puppies can be fussy eaters. If you find that your Bichon Frise stubbornly refuses dry food, it's OK to moisten her food with water.
However, do not give into the temptation to offer your pup human food or wet food. Kibble is by far the best choice for your dog's digestive system and teeth.
And using a kibble like one of these high quality puppy foods will help insure that your allergy sensitive Bichon Frise puppy will not develop allergies to her food.
If you do need to change your dog's diet, do it gradually over a week's time.  Changing your dog's food too quickly can give her puppy diarrhea.
What about Dog Treats?
From time to time giving your dog a little carrot, apple, cooked egg or yogurt as a treat is fine.
A healthy dog treat now and then is just fine. But do limit the extras, to keep your dog's weight at a healthy level.
By following these basic dog feeding guidelines, for the Bichon Frise puppy feeding schedule, you will be supporting your puppy's health and giving him the best chance for a very long life with you.
Remember to be consistent in feeding your Bichon puppy, and use good quality kibble for the best results.
Bichon Frise puppy care is not really hard, and you will find it great fun to take care of your new little friend.
If you found this article helpful, please take a few seconds to share it with a friend…
Where to next?