(Psst: The FTC wants me to remind you that this website contains affiliate links. That means if you make a purchase from a link you click on, I might receive a small commission. This does not increase the price you'll pay for that item nor does it decrease the awesomeness of the item. Linda)
The Bichon Frise temperament is one of the most pleasing dog temperaments. Their little dog personality is equally well suited for families with children, for apartment dwellers and for seniors!
Properly cared for, the little Bichon will bring joy and happiness to any home, with its pleasant personality and happy outlook.
Most people describe the Bichon Frise temperament as being cheerful, and that is probably the most accurate description of this perky little people pleaser!
If you're looking for a pleasant companion, a Bichon Frise dog may be your best choice. But, don't be misled—these cute little guys can also be pretty demanding!
Claim your FREE mini-course on Bichon Frises here…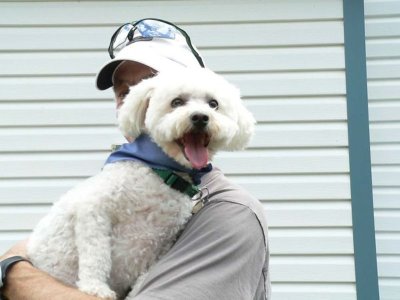 Judging a Bichon Frise's Temperament
When selecting a puppy or dog, you need to consider your new dog's temperament. This is really important. While the breed may be known for having certain characteristics, each individual puppy will also have its own dog personality.
To distinguish one puppy in a litter from the others, separate the dogs and interact with each one to see how they react to you.
Some may be more playful, aggressive, or social than others, and you want to find a dog that is compatible with you and your family.
Bichon Frise Temperament Traits
So what can you expect to see in a Bichon? In general, the Bichon Frise temperament will look like this:
Energy – They are not as delicate as they look. They have a sturdy build, and they are full of energy and enthusiasm.  In fact, Bichons are noted for their funny Bichon Buzz!
Independence – These little guys are pretty independent. They need some guidelines and rules—that are given in a gentle fashion. They do not take well to firmness, and, if disciplined too firmly, they can become aggressive. If handled gently, they will be quite cooperative.
Happy – Bichons have a cheerful disposition, and they are quite pleasant to people and to other pets. They are fun to be around.
Tricksters – Bichons love to do tricks. In fact, one of the ways to have success with

training

them is to make training into a game, where your dog does "tricks". They have a long history of performing for royalty, as circus performers and for organ grinders. It seems to be part of their genes to please us.
Intelligent – Bichons are quick learners and they love to learn…
Great companions – Bichons love to be with you and will be loyal companions who also can serve as

watch

dogs. They are not aggressive, nor are they yippers—but they will alert you to anyone who comes into your domain.
Make sure you get your FREE mini-course on Bichon Frises now…
The Cons of Owning a Bichon
Of course no dog is perfect, and there are some things that you should know before deciding if a Bichon is the right dog breed for your family.
Bichons can be quite difficult to house train. So if you work away from home and will be away for extended periods of time, this might not be the dog for you.
In addition, Bichon Frises suffer from separation anxiety if they are left alone too long. They love to be with you, and miss you when you are gone.
With a Bichon Frise dog, you will need to attend to some grooming every day in order to keep your dog's coat free from tangles and knots. If you don't do this, you will end up with a lot of tangles and matted hair. This requires a commitment of time, on your part. And some patience.
Lastly, if you don't work with your dog, Bichons can become barkers. And you do want to nip this behavior in the bud, before it becomes a problem.
Bichon Frises are wonderful little dogs, and the Bichon Frise temperament is quite pleasant. If you're looking for a nice little companion, consider a Bichon Frise.
But make sure that you have the time necessary to take care of your new little friend…