(Psst: The FTC wants me to remind you that this website contains affiliate links. That means if you make a purchase from a link you click on, I might receive a small commission. This does not increase the price you'll pay for that item nor does it decrease the awesomeness of the item. Linda)
Finding the best dog food for canine food allergies becomes a top priority if your dog is miserable, itchy and scratching all the time!
Dog food allergies are not as common as airborne or seasonal allergies. However, if your dog is allergic to his food, he will experience intense itching and scratching.
If you are suspicious that your dog has food allergies, you will notice that he is itching and scratching all year long, with little variation.
With seasonal allergies, the irritation is only during warmer months when plants and flowers make and distribute pollen. You may notice skin allergies during the summer months, as well.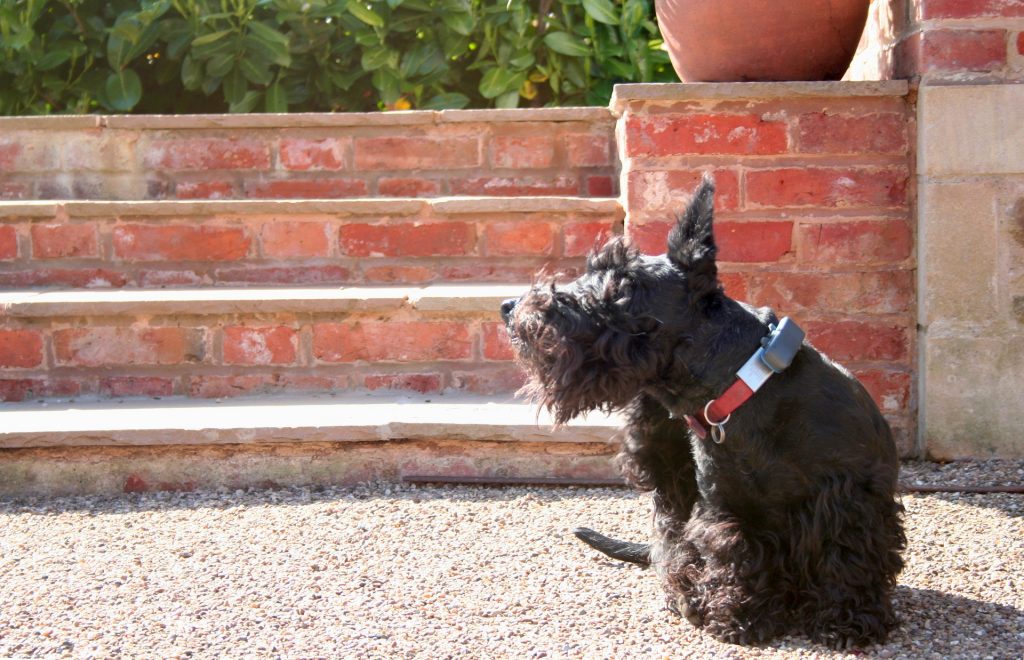 Dog Food Allergy Symptoms
How do you know if your dog has canine food allergies? Dogs who have food allergies show these symptoms:
Constant itching – If your dog is itchy, no matter which season, consider allergies. Constant irritation from scratching can cause hot spots to develop.
Licking or biting – Dogs lick spots that are itchy or sore, including their paws.
Chronic ear infections – There is a connection between ear infections and allergies, although it is not obvious.
Diarrhea or vomiting – If your dog has not been sick and she has diarrhea or vomiting that lasts for awhile, consider allergies. Allergies can affect your dog's digestive system.
Unfortunately there is no reliable blood test or other diagnostic test to determine if your dog has allergies. The only way to absolutely tell whether your dog has food allergies is to give your dog an elimination diet to see if his itching stops.
Dog Food Elimination Diet
The ideal food elimination diet should be balanced and complete with all the nutrition that your dog needs.
In addition, your dog's elimination diet should be free from any ingredients that your dog has previously eaten. This part is important, as even the smallest amount of an allergen can give your dog symptoms.
This will take time and patience on your part. Figure on about 3 months to complete the test.
The key to this diet is that you feed your dog only novel foods (those he has never had before). That includes dog treats and anything else your dog gets to eat.
The most common foods that dogs react to are:
Beef
Chicken
Eggs
Corn
Wheat
Soy
Milk
Feed your dog his new diet for 3 months. If his symptoms disappear, you are almost there. Reintroduce the foods your dog used to eat, one at a time. If he is allergic to a food, you will see symptoms after one hour, and up to 14 days.
If you observe food allergy symptoms, discontinue that food again, and the symptoms should go away within 14 days. Do this with foods that you would like to have your dog eat again, one at a time.
If you have confirmed a dog food allergy, the next step is to put your dog on a hypoallergenic diet.
Best Dog Food for Allergies
When you have identified the offending foods, the best solution to eliminating dog food allergies is to switch to a dog food with a new protein source. You will not give your dog the offending foods again.
New protein sources that usually work are foods like fish, rabbit, venison and even kangaroo.
Fish in particular, is a good protein source. It contains omega-3 fatty acids, and they can help eliminate the inflammation caused by allergies. All fish are not the same. So, if your dog is allergic to one kind of fish, she may not be allergic to another kind.
Here are some excellent quality brands that have good track records:
While your dog's allergies are probably driving you both crazy, there is a way to treat them. It will take some time and you will need to be diligent about following the diet. But it will pay off, in time.