Senior Bichon Frises
Keeping Old Dogs
Comfortable and Happy
Aging dogs require care different from young dogs.
Old dogs have senior dog health problems and diseases that develop as a dog ages, and they have limitations they didn't have as puppies.
In addition to hearing loss and slowing down, your aging Bichon Frise may develop arthritis, hypothyroidism, cataracts, Cushing's Disease or experience muscle loss.
To keep him comfortable, you may need to get him some special senior dog equipment or adapt his home environment to keep him active and comfortable…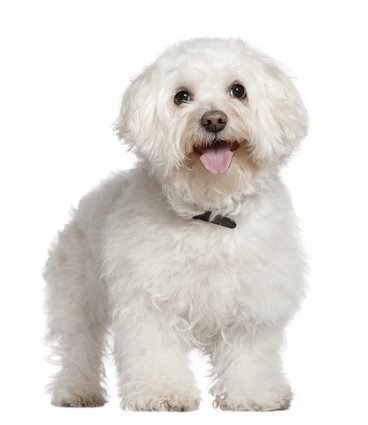 This Bichon Frise is 13 years old.
Aging Dog Care
As your Bichon ages, you may notice some graying on her face and muzzle. She will probably slow down and may have trouble getting up and down and climbing onto the sofa or into the car.
In addition, your dog may not respond when you speak to her. She may not be ignoring you—she may be unable to hear you.
Here are some things that you can do to help your senior dog:
Elevated Dog Food Bowls – Sometimes older dogs just can't bend down too far. Is an elevated dog bowl the right thing for your senior Bichon Frise…
Dog Car Ramp – If your dog is

used

to going with you in the car, you may want to consider a dog car ramp to help her get in and out of the car on her own…
Aging Dog Care – Care for older dogs is different from care for younger dogs. Here are some

things to consider when

caring for your geriatric dog…
Indoor Pet Ramp – Bichons love to be where you are—on the sofa, in your bed—and an indoor pet ramp can help your arthritic old dog climb to where she wants to be…
Heated Dog Beds – A little heat can feel pretty nice on those old stiff bones…
Orthopedic Dog Bed – If you know your dog has a problem with stiffness, perhaps an orthopedic bed would help…
Memory Foam Dog Bed – Just like your memory foam bed, your dog can have one too…
You can still have fun with aging dogs–you just need to help them be more comfortable and learn ways to include them, even if you have to make adaptations to your schedule and your home!
More articles on aging Bichon Frises: