Aging dogs have dog health problems and diseases unknown to younger dogs.  As your dog gets older, he may develop physical and mental limitations, just like an older person.
In addition to hearing loss and slowing down, aging dogs may develop arthritis, hypothyroidism, cataracts, Cushing's Disease or they may experience muscle loss.
To keep your Bichon Frise dog comfortable, you may need to get him some special senior dog equipment or adapt his home environment to keep him active and comfortable…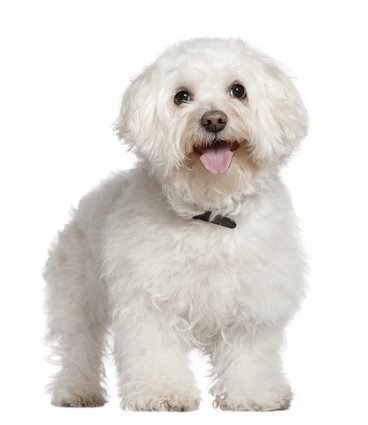 Signs That Your Dog is Aging
As your Bichon Frise ages, you may notice some graying on her face and muzzle. She will probably move slower and she may have trouble getting up and down.  In addition, she may need help to climb onto the sofa or get into the car.
You may find that your dog does not respond, when you speak to her. She may not be ignoring you or showing an attitude.  Instead of becoming defiant, he may be unable to hear you or he may be getting dementia.
As your Bichon Frise ages, it may become difficult to tell if she is misbehaving or if she is having medical problems–or a combination of the two!
Aging Dogs Lose Their Senses!
Dogs actually can become forgetful.  Aging dogs sometimes forget their training, just as people can become forgetful and forget their manners.
Old dogs also can become deaf or hard of hearing and lose some or all of their vision.  Even your Bichon Frise dog's wonderful sense of smell may fade.
Perhaps even more frustrating, aging dogs can lose control of their urine, with telltale little puddles around the house.
If these things happen, your dog may not be in control.  In fact, she may not even remember her obedience commands or that we always go outside to take care of business.
Help for Your Senior Dog
Here are some things that you can do to help your senior dog:
Older dogs still need affection, play and exercise.  While you may need to slow down for your older Bichon Frise, make sure you still include him in fun activities.
You and your family will need to learn how to help your Bichon be more comfortable.  And you may have to make adaptations to your schedule and your home!
More about Senior Dogs